About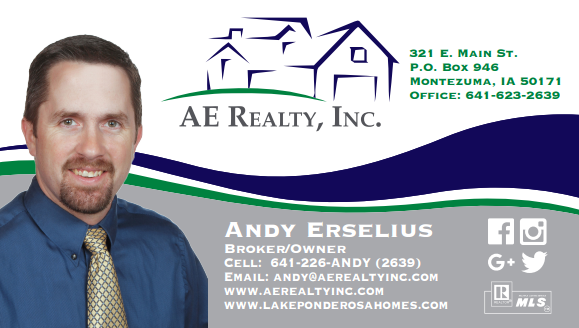 AE Realty is the leader at Lake Ponderosa when it comes to real estate marketing and implementing tools to reach our clients' goals. We have a great reputation around the lake for working hard for buyers. We inform buyers, are never pushy, and consider them to be a top priority.

We are always striving to lead the Lake Ponderosa market in research, innovation, and consumer education. Today's buyers and sellers need a trusted broker to provide the very best service with their needs above all else. With AE Realty's knowledge and commitment to providing only the best and most timely information to our clients, we are your go-to source for real estate insight and advice at Lake Ponderosa.

Prior to selling real estate in Montezuma, Lake Ponderosa, and Poweshiek County, Andy Erselius, broker/owner, was a sales agent in St. Louis City and County. He is in his 9th year of real estate and has been awarded the Sales awards since entering the Lake Ponderosa market by the Iowa Association of Realtors. Whether you are buying your first lake home or your forever home, Andy is always willing to work hard to help you meet your real estate goals.


My Mission Statement:
Provide top-notch service and tools to property owners at Lake Ponderosa and to provide professional guidance and information to buyers coming to Lake Ponderosa. Our competitors try to keep up with our level of service, but fall short. We don't believe in hiding listings or exclusive listings. Competition provides the best result when listing a lake property for sale. We want to benefit our clients by providing the best possible service.


Personal Data:
Andy lives with his wife and three children in Montezuma. He is very active in the community through coaching, volunteering at After School Programs at his church, Lake Ponderosa Clean-Up Day, delivering Meals on Wheels, and doing what he can to help people in the community. He has lived in Montezuma for 12 years. Andy enjoys spending time with family, golf, movies, home improvement projects, walking, and watching his kids participate in athletics.